JLL @ Paris 6
Mohammed El Rhabi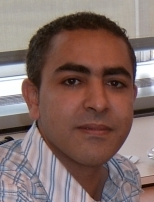 Research Interests: P.D.E - numerical analysis, scientific computing, finite element method, spectral method.
Non-conforming domain decomposition : the mortar element method. Electromagnetisme.
Signal processing, blind source separation. Independent Component Analysis (ICA).
Applied Statistic- stochastic optimization. Application : diagnosis of the electromechanical systems.
Image processing, image restoration : blind deblurring, denoising, inpainting. Image segmentation. Document Image Analysis. Motion Estimation, Optical Flow, Egomotion. Application : cameraphone.

Some Numerical Simulations:
| | |
| --- | --- |
| Our Camera-Based Motion Estimation : Motionized ; Interface Control (NB: Of course this phone has no accelerometer) ( Other test - Samsung instinct ) | Our Camera-Based Motion Estimation : Augmented Reality Game (NB: The Nintendo DSi has no accelerometer) |
| Our Camera-Based Motion Estimation : Realeyes3d-Nintendo Game(NB: The Nintendo DSi has no accelerometer) | Our Embedded Blind deblurring |